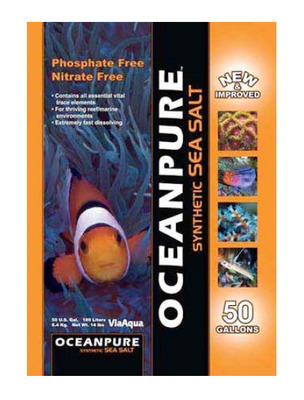 Item # C015
Description:
Treats 189 litres (50 Gallon) NEW & IMPROVED
Manufacturer:
Via Aqua
Features
Oceanpure™ Synthetic Sea Salt is among the finest salt in the market today.
All ingredients used are pharmaceutical free of phosphate, nitrate and contaminant ingredients.
Scientific grade marine salt.
Oceanpure™ Synthetic Sea Salt dissolves quickly to create a vibrant and crystal clear aquatic environment second to none.
Specially formulated with calcium, magnesium and strontium.
Replicates seawater chemistry in all its complexity, delivering every major, minor and trace elements required for the success of your reef or fish only aquarium.
Net weight 6.6 kg
Will make 189 litres.
AU$29.95 (Was AU$47.85 you save AU$17.90)
Earn 300 points with this purchase
Copyright (c) 2018 The Aquarium Shop All rights reserved.