Item # FLED30
Description:
61-91cm with remote (A3997)
Manufacturer:
Fluval
Features
The Fluval Aquasky LED lets you customize your aquatic universe, pairing super bright white LEDs with tri-coloured LEDs (red, blue, and green).
This powerful combination offers an adjustable light spectrum, which can replicate several natural environments and create stunning visual effects such as cloud cover, fading lunar, storm and lightning.
Waterproof IPX7 engineering protects the light from splashing and even submersion, while also allowing the unit to be positioned directly above the water surface for superior light penetration and efficiency.
6500K white LEDs with tri-coloured RGB LEDs offer an adjustable light spectrum
Replicates various natural environments, as well as creating cloud cover, fading lunar, storm and lightning effects
Skypad remote control: adjust your colour and sky effects; choose from up to 11 preset sky effects and a wide array of colour selections
120 degree light dispersion for full area coverage and uniform lighting
Extendable mounting brackets allow easy installation on a variety of aquarium widths
German Engineered
Extension range: 61 to 91 cm (24in to 36in)
Watts: 18 W
Lumens: 1250 lm
Colour Temp: 3000-25000K
Total LED Count : 42
Lifetime Hours: 50,000
For Fresh and Saltwater Aquariums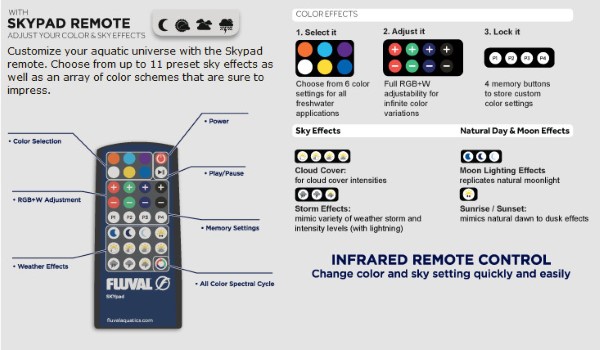 AU$153.25
Earn 1532 points with this purchase

Fluval Aquasky LED Strip Light 27w
91-122cm with remote (A3998)

Fluval Aquasky LED Strip Light 35w
122-153cm with remote (A3999)
Copyright (c) 2017 The Aquarium Shop All rights reserved.