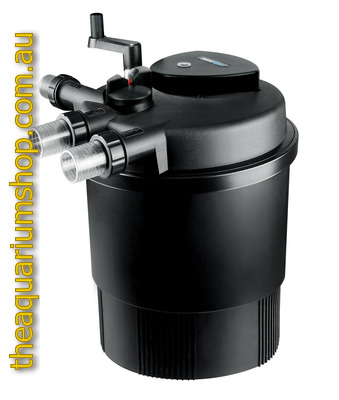 Item # 03PE284
Description:
For ponds up to 20000 Litres.
*** AVAILABLE FOR LOCAL DELIVERY OR PICKUP ONLY ***
Features
Your PondMAX pond filter has been manufactured with advanced technology to provide you with the best quality filter for your pond water.
High efficiency pressurized pond filter system with integrated UV-C using modern technology and user friendly design. These units boast crystal clear water.
Multi-stage cleaning
Low maintenance backwash rinsing system
Can be used in-line for waterfalls and waterfeatures
Specifications:
Cable Length: 5m
Canister capacity: 50L
Inlet/Outlet size: 50mm
Max Pond size without Fish: 20000L
max Pond size with Fish: 11000L
Max Flow: 11000L
Recommended Pump: EV11200
Size 450 x 550
UVC Size: 36W
AU$649.95
Earn 6500 points with this purchase
Copyright (c) 2018 The Aquarium Shop All rights reserved.