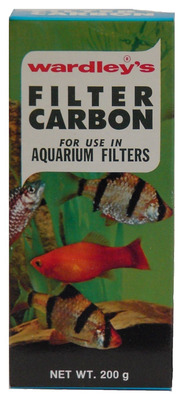 Item # WA254
Description:
For use in aquarium filters *** ON SPECIAL TO CLEAR ***
Manufacturer:
Wardley
Features
Wardley's filter carbon is excellent for use as an aquarium filtration and purification agent.
It is recommended for use in all types of aquarium filters where filter carbon or charcoal is indicated, and may be used in combination with Wardley's filter wool.
Content made in Australia.
Carton printed in Taiwan.
Wardley's Filter Carbon has numerous small pores to enable it to remove harmfull gases,odours,chlorine and dissolved organic compounds in the treatment of aquarium water.
It has a surface area 750 square meters per gram(appr. 26.000 square yards per ounce).
Before placing Wardley's Filter Carbon in filter,place under running water to remove any fine particles.
Place thin layer of filter wool on filter platform to prevent carbon from being sucked through the filter.
Place filter carbon in filter and cover of filter wool.
From time to time,as filter carbon accumulates debris,rinse thoroughly.
Replace filter carbon after several rinsings.
For maximum purification and filtration of aquarium water.
AU$1.99 (Was AU$4.95 you save AU$2.96)
Earn 20 points with this purchase
Copyright (c) 2019 The Aquarium Shop All rights reserved.