Dog Supplies /
Petrodex Natural Dental Care Kit for Dogs Peanut flavour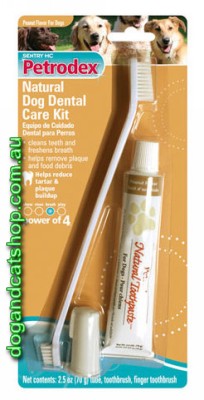 Item # SRG20
Description:
Oral hygiene for your dog using all natural abrasives. Helps control plaque and fights bad breath.
Manufacturer:
Sentry Pet Care Products
Features
Petrodex Natural Toothpaste
Formulated specifically for dogs
Formula helps reduce plaque and tartar accumulation
Does not foam so no need to rinse
Helps clean teeth and fights bad breath
Peanut flavoured to assure acceptance
Petrodex Toothbrush
Developed by a veterinarian
Helps remove plaque and food debris
Ultra-soft bristles for gentle application
Dishwasher safe
Petrodex Finger Toothbrush
Gently removes plaque and food debris
Massages gums
Easy-to-use - just slip over finger
Ideal for puppies
Dishwasher safe
AU$9.95 (Was AU$24.00 you save AU$14.05)
Earn 100 points with this purchase
Copyright (c) 2020 The Aquarium Shop All rights reserved.