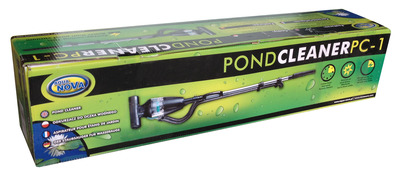 Item # PC-1
Description:
Pond Vacuum Cleaner *** AVAILABLE FOR LOCAL DELIVERY, PICKUP OR CONTACT US TO ARRANGE SHIPPING ***
Manufacturer:
Aqua Nova
Features
Self cleaning, powerful and economical unit is simple to set-up.
Design eliminates the set-up hassle of cumbersome barrel types
Use to clean-up your large pond by removing sludge, leaves & blanket weed and then you can either recycle the water or waste the nutrient rich water away to the lawn or garden
Remove debris up to 25mm in size
Maximum submersible depth is 5m
Brush protection so won't hurt fish or be clogged
12 metre power cable.
Economical 250watt motor
6m reinforced 1.5" smooth spiral discharge hose
Adjustable telescopic handle
12 month warranty
Power: 240volts
AU$299.95 (Was AU$395.00 you save AU$95.05)
(Bulky Item)
Earn 3000 points with this purchase
Copyright (c) 2019 The Aquarium Shop All rights reserved.