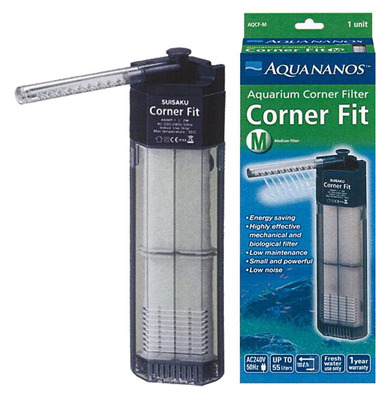 Item # AQN04
Description:
Corner Fit Air Driven Filter for up to 55 Litres
Features
Energy saving
Highly effective mechanical and biological filter
Low maintenance
Small and powerful
Water flow adjustment
Pump designed to fit tightly into the corner of your tank.
Easy one step cartridge removal for cleaning and replacement
Efficient four-layer mechanical and biological for crystal clear clean water.
Low noise
1 year warranty
Freshwater use only
AC240 volts
Power usage: 2watts
Max temperature: 35 degrees
IPX8
Size:25.5cm tall
AU$25.65
Earn 256 points with this purchase
AU$11.95
Was AU$15.95
Saving AU$4.00


Aquananos Corner Deluxe Air Drive Filter Small
Corner fit Air driven filter for crystal clear water
Copyright (c) 2020 The Aquarium Shop All rights reserved.