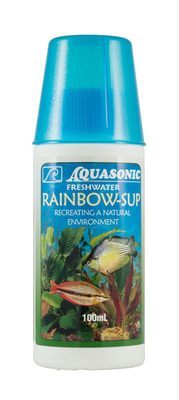 Item # RS100
Description:
For Rainbow fish and soft water species
Features
Rainbow fish in the wild exist in varying freshwater to brackish aquatic environments that contain humic and organic acids, peat, tannins and natural compounds. Tannins that are produced from dead and decaying plant matter are an essential part of their habitat.
These components are required for the health and longevity of Rainbow fish and Blue Eyes.
Aquasonic's Rainbow –Sup contain all these essential ingredients.
Aquasonic's Rainbow-Sup also contains disease inhibitors to keep your fish healthy. It helps to induce spawning and also enhances colouration which is essential to attract a mate during the breeding season and to produce as many fry as possible.
Made in Australia
AU$9.15
Earn 92 points with this purchase

Aquasonic Rainbow-Sup Water Conditioner 250mL
For Rainbow fish and soft water species
Copyright (c) 2019 The Aquarium Shop All rights reserved.