Fish Food /
Aquasonic Weekend Fish Food Block 25g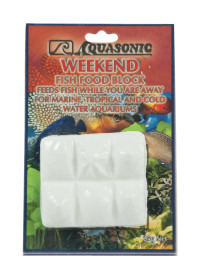 Item # FB602
Description:
Feeds your fish while your away. 6 Portions
Manufacturer:
Aquasonic
Features
Feeds your fish while your away.
Suitable for Marine, Tropical and Cold Water Aquariums.
Contains premium aquarium fish food, 1mm -2mm size.
Also stabilizes your pH.
The 'Weekender' has 6 portions.
Each portion will dissolve in 2 to 4 days releasing enough food for an average 50lt tank.
For larger aquariums use multiple portions.
For smaller aquariums remove unused portion on return.
For best results ensure you have water circulation and aeration in the aquarium.
Made in Australia.
AU$7.40
Earn 74 points with this purchase
Copyright (c) 2020 The Aquarium Shop All rights reserved.