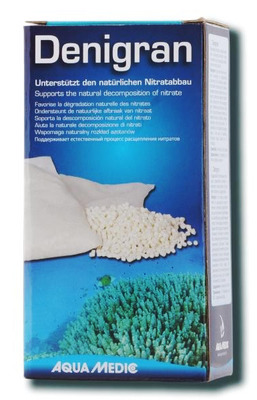 Item # AM41176
Description:
Treats up to 200 litres of aquarium water
Manufacturer:
Aqua Medic
Features
Denigran is a special organic plastic granular material that allows the settlement of nitrate removing bacteria.
Denigran is completely chemical free for natural nitrate removal.
Each Denigran packet contains 4 individual fine mesh bags of 50g each. The mesh bag gives the optimum water flow through the media.
Depending on the nitrate load, Denigran will be effective for up to 12 months.
Dosage: 1-2 bags per 50litres of aquarium water
The Denigran bag should be placed in an area of good water flow in the filter or in a reactor.
Do not place all the required bags into the aquarium system at once, but rather over a number of weeks.
Some initial water clouding may be observed as the bacteria colony multiplies, but this will clear after a short time.
Suitable for both salt and fresh water aquaria.
Also helps clear algae problems.
Made in Japan with German engineering.
AU$26.25
Earn 262 points with this purchase
Copyright (c) 2021 The Aquarium Shop All rights reserved.