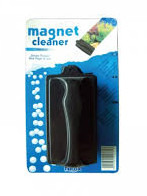 Item # MC-L
Description:
Extra strong
Size 9 x 5cm
Manufacturer:
Heto
Features
Magnet cleaner.
Extra strong.
With safety string.
Removes algea stains from aquarium glass.
Made in China.
AU$11.95 (Was AU$19.95 you save AU$8.00)
AU$14.95
Was AU$24.95
Saving AU$10.00


Heto Magnet Fish Tank Cleaner X-Large
Extra strong
Size 11 x 7cm
Copyright (c) 2019 The Aquarium Shop All rights reserved.