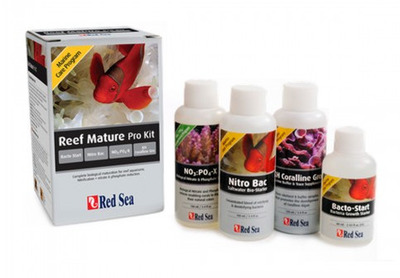 Item # RED314
Description:
Complete program for the biological maturation of reef aquariums. Treats 250L
Manufacturer:
Red Sea
Features
The Red Sea Reef Mature Pro Kit will help any tank with its biological filtration cycle. At Bulk Reef Supply we have used many different cycle starting products.  The Reef Mature Pro kit is one of the few that just simply works well and is a very easy system to follow.
Get your new reef tank off to a good start with the Red Sea Reef Mature Pro Kit. Each kit provides nitrification as well as nitrate and phosphate reduction to help with the biological maturation of your reef tank.
Each kit contains:
100 mL Nitro Bac
100 mL NO3: PO4-X
100 mL kH Coralline Gro
60 mL Bacto-Start
AU$54.95

Red Sea KH Alkalinity Pro Testing Kit 75 tests
Advanced titration test measuring alkalinity

Red Sea Marine Care Test Kit Multi
Easy-to-use tests for the accurate monitoring of all of the important parameters during the biological maturation of marine and reef aquariums
Copyright (c) 2019 The Aquarium Shop All rights reserved.