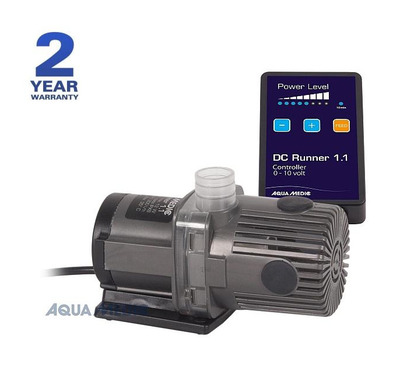 Item # AM100311
Description:
Up to 1200L/hr water circulation pump with output controller
Features
The DC Runner x.1 series of high performance, low voltage (24v DC), adjustable circulation pumps are the most recent update of the original DC Runner pump range.
The power saving DC motor offers proven reliability, high efficiency, very quiet operation and low energy consumption.
DC Runner pumps are supplied complete with an updated DC Controller.
The DC Controller allows 8 levels of flow adjustment and also a 10 minute Feeding mode.
Soft start for less stress on the impeller and electronics.
DC Runner pumps can be used submersed or non submersed.
The pumps are suitable for fresh or saltwater use.
2 Year Warranty
Specifications:
- Overall dimensions: L 125mm x W 60mm x H85mm
- Inlet (Suction side) connection: 25mm
- Outlet (Pressure side) connection: 20mm
- Power supply: Input: 100-240v/50Hz, Output: 24v
- Pump consumption: Max. 12watt
- Max Head: 1.50m
- Maximum Output: 1,200 l/h @ 0mtrs head
- Variable Output: Determined by DC Runner Controller
- Pump cable length: 1.9m
- Transformer cable length: 1.5m
DC Runner Controller (included):
- Power adjustment in 8 steps
- Feeding Mode (switches pump off for 10 minutes while feeding)
- Dry running protection if water is undetected for 2 minutes
AU$126.25
Earn 1262 points with this purchase
Copyright (c) 2019 The Aquarium Shop All rights reserved.