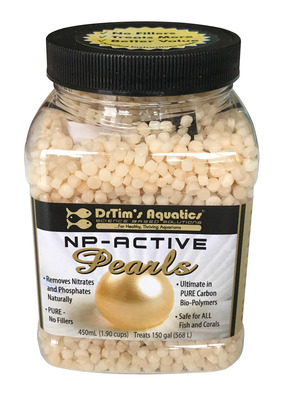 Item # 81254001801
Description:
For Nitrate NO3 and Phosphate PO4 Reduction
Manufacturer:
Dr Tim's
Features
NP Active Pearls are the ultimate in PURE carbon Bio-Polymers.
"Pure" with absolutely no fillers.
Easier to use than liquid carbon dosing.
100% biodegradable PHA-based polymer.
Safe for all fish and corals.
Effectively removes excess nutrients.
Removes nitrates and phosphates naturally.
Designed and tested for aquatic systems to act as a carbon source for the growth of beneficial bacteria.
Suitable for use in fluidized bed filters, reactors or mini canister filters.
Use of a good strong protein skimmer is highly recommended.
Works in all types of aquariums.
3ml of NP-Pearls per 4lts of aquarium water.
Made in the USA.
www.drtimsaquatics.com.au or www.npactivepearls.com for more information.
AU$69.95
Earn 700 points with this purchase
Copyright (c) 2020 The Aquarium Shop All rights reserved.