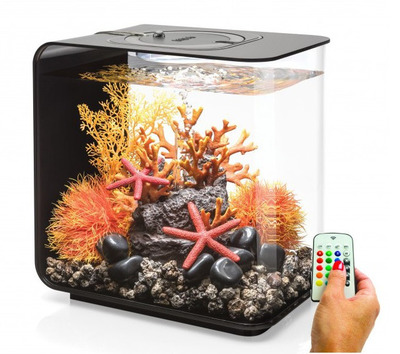 Item # 12055
Description:
With Multi-Coloured Remote-Controlled LED light
Features
BiOrb Flow 15  (Note does not include decorations)
Just like the biOrb aquarium, this design continues to use simple maintenance and safe low voltage parts.
The biOrb Flow 15 uses the same unique multi-stage biOrb filtration, keeping the water cleaner and clearer for longer, providing a healthy habitat for fish. All components to the aquarium are child friendly, working off of only 12 volts.
This aquarium is a cool compact size ideal for your office or child's bedroom at 30.cm x 20.8cm x 31.5cm and holding up to 15 litres.
Biorb Flow 15 comes complete with:
 Built in 12v LED light 
 Filter Cartridge
 Ceramic Media
 Airstone
 12v Transformer 
 Air Pump
 Instructions
 Tap water conditioner 
 Sample sachet of fish food
AU$259.00 (Was AU$347.00 you save AU$88.00)
Copyright (c) 2021 The Aquarium Shop All rights reserved.