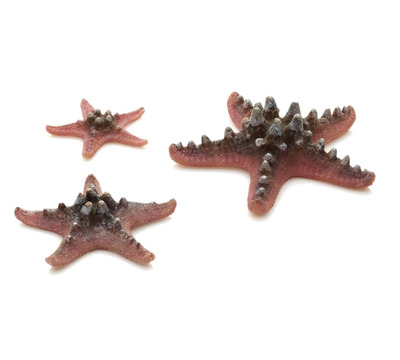 Item # 12183
Description:
Aquarium Decoration *** ON SPECIAL DISCOUNTED TO CLEAR ***
Features
Formed from the Protoreaster nodosus (commonly known as the horned star fish) which is found in the shallow waters of Bali. These sea stars add shape and interest to the bottom of your aquarium
Three sea stars per set
Small 50mm wide, medium 80mm wide, large 100mm wide
Suitable for all biOrb aquariums
Can be used in both marine and fresh water
The artificial starfish and seashells are environmental friendly – no more collecting from the wild! In addition, they will not breakdown or alter your water chemistry like real ones will.
Each ornament is cast from a sculpted design to ensure the highest quality and detail.
The biOrb artificial starfish, sea stars, moss pebbles, topiary and flower balls and seashells are also perfect as "dry" displays in bowls on your coffee table or in your lounge room or bathroom. The sea stars will also make great wall display art for your entranceway!
AU$19.95 (Was AU$39.95 you save AU$20.00)
Copyright (c) 2022 The Aquarium Shop All rights reserved.