Item # TAS-CT-3080
Description:
Digital Pen Meter measures up to 0.1% salinity (Note 4 x 1.5 V battery LR44 not Included) *** ON SPECIAL ***
Manufacturer:
Hagen
Features
Features
Range:  0 to 1000 mg/L.
LCD with indicates both mg/L and temp.
Pen type digital TDS meter, all in one, salt electrode included, easy to use.
Data hold function for freezing the desired value.
Waterproof.
Auto powers off after 5 minutes of non-use.
Build in temperature sensor, ATC (auto temperature compensation).
Microcomputer circuit, intelligent function, high accuracy.
Easy to change the TDS electrode.
Compact size, light weight.
Temperature measurement, °C,°F.
Power supply by 1.5 V battery (LR44) x 4 PCs (NOT-included!)
Specifications
Display: LCD
size : 20 mm x 27 mm.
Range: Salt 0 to 1000 mg/L, Temp. 0 to 50°C
Resolution: Salt 1 mg/L, Temp.  0.1 °C
Accuracy: Salt  ± 1% FS After calibration, Temp.  ± 0.8°C
Salt Calibration: 6640 mg/L(12.88 ms/cm), 1 points calibration.
Operating Humidity: Less than 80% RH.
Dimension: 188 x38 mm (Meter with Salt electrode.)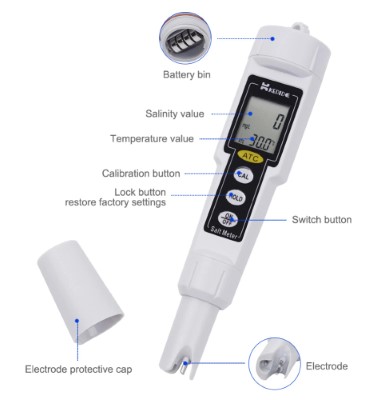 AU$42.50 (Was AU$69.95 you save AU$27.45)
Earn 425 points with this purchase
Copyright (c) 2021 The Aquarium Shop All rights reserved.