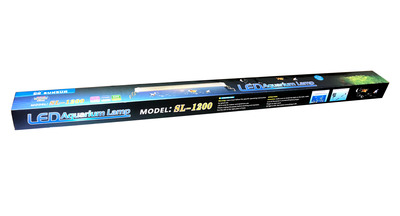 Item # GPS-SL1200
Description:
24 watts
Manufacturer:
Sunsun
Features
LED technology uses a fraction of the power of traditional fluorescent lights.
Extremely low heat production compared to other aquarium lighting methods
Includes sliding mounting legs to allow for different size aquariums.
Specifications :
115-140cm Overall Size
112cm Light Unit Only
Suitable for tanks 114 - 139cm
24 watts
Blue/White LED 14k
Splash -Proof Plastic cover
Single inline switch.
Input : 160-260 volts AC/50Hz RP/24watt
Output : 420mA/60 volt/DC
12 month warranty
Energy saving
Long Life Span
AU$129.95
Earn 1300 points with this purchase

Sunsun Power LED Fitting SL-600 2ft Blue/White
12 watts (AQ-LED6)

Sunsun Power LED Fitting SL-800 80cm Blue/White
16 watts

Sunsun Power LED Fitting SL-1200 4ft Blue only
24 watts
Copyright (c) 2020 The Aquarium Shop All rights reserved.