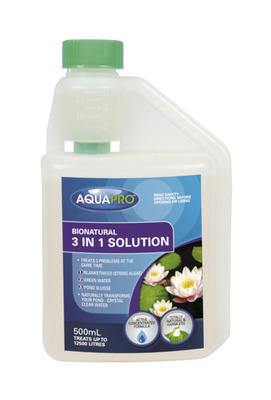 Item # 03AO125
Description:
Sorts out a green pond and pond sludge in one hit
Features
Completely clears green water
Totally harmless to the environment
Treats 12,500L
Visible results within 4 weeks
If you need to sort a green pond and pond sludge in the one hit, the Aquapro Bionatural 3 in 1 Solution is the treatment for you. The Bionatural 3 in 1 is designed to eradicative blanket weed, eliminate suspended algae and to consume pond sludge.
Made with natural products, plant extracts and bacteria strains; the 3 in 1 solution targets all your problems without compromising on being harmless to the environment.
One 500ml bottle treats up to 12500L, meaning 1 ml will treat 25 litres of pond water. Its recommend to dose weekly for 1 month and then once seeing results, dose monthly whilst running your pond pump 24/7.
Combining the results of the Bionatural Algae Away, Bionatural Barely Straw solution and the Bionatural Sludge Away into the one treatment, the Bionatural 3 in 1 solution definitely gives value for money.
To calculate approximate pond capacity:
Length (cm) x Width (cm) x Average Depth (m) x 1000 for Litres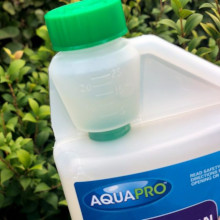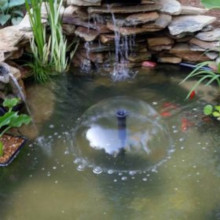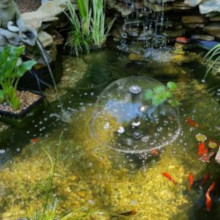 AU$25.75
Earn 258 points with this purchase

AQUAPRO Pond Algae Block 20g NET
For Crystal Clear Water (Suitable for up to 800lt)
AU$10.45
New stock expected Late January

AQUAPRO Bionatural Feature Pond Block with Mosquito Repellent 35
Natural way to prevent algae growth

AQUAPRO Bionatural Sludge Away 500ml
Consumes sludge
Copyright (c) 2021 The Aquarium Shop All rights reserved.