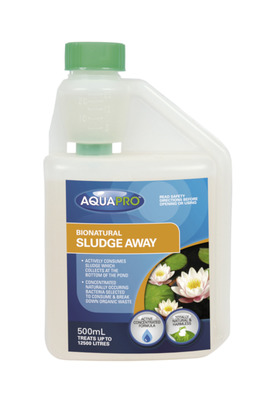 Item # 03AS123
Description:
Consumes sludge
Features
Eradicate your rotting sludge problem
Harmless to fish, plants, pets and people
1 bottle treats 12,500L
Easy to use measuring cup
Use in conjunction with Bionatural Algaway
Visible results within 4 weeks
Bionatural Sludge Away actively consumes sludge which collects at the bottom of the pond.
Concentrated naturally occurring bacteria selected to consume and break down organic waste.
It is essential there is aeration or circulation present during and after the treatment is applied.
Dosage:
Use 10ml for every 250LUse weekly for one month and then monthly to maintain clarity
To calculate approximate pond capacity:
Length (cm) x Width (cm) x Average Depth (m) x 1000 for Litres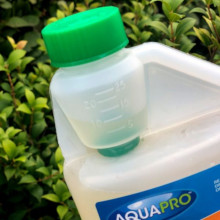 AU$26.00
Earn 260 points with this purchase

AQUAPRO Pond Algae Block 20g NET
For Crystal Clear Water (Suitable for up to 800lt)
AU$10.45
New stock expected Late January

AQUAPRO Bionatural Feature Pond Block with Mosquito Repellent 35
Natural way to prevent algae growth

AQUAPRO Bionatural 3 in 1 Solution 500mL
Sorts out a green pond and pond sludge in one hit
Copyright (c) 2021 The Aquarium Shop All rights reserved.