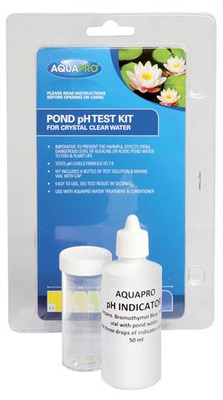 Item # 03AP115
Description:
For crystal clear water *** ON SPECIAL ***
Features
Tests pH levels 6.0 to 7.6
Kit includes a bottle of test solution and mixing vial with cap
Up to 10 tests in one kit
Easy to use, see results in seconds
Use with AquaPro water treatment and conditioner
In order to keep your pond levels at a perfect 7.0 neutral level, the Aquapro pH Test Kit is your go to indicator. It is imperative to keep your pond water levels at a perfect level, not too acidic or alkaline, to ensure the survival of your plant and fish, pond life.
The pH test kit includes a bottle of test solution, a mixing vial with a cap and a colour indicator card to show the levels of your pond water. The kit is very easy and straightforward to use with the results produced in seconds.
AU$11.95 (Was AU$16.95 you save AU$5.00)
Copyright (c) 2021 The Aquarium Shop All rights reserved.