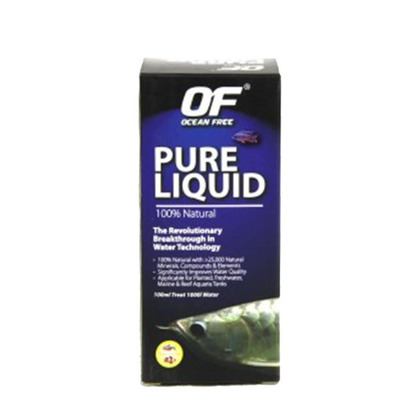 Item # QHU252
Description:
100% Natural Water conditioner *** INTRO PRICE ***
Features
Revolutionary Breakthrough in Water Technology
Applicable for Planted, Freshwater, Marine & Reef Aquaria Tanks
Improves water quality, making it crystal clear
Acts and removes harmful bacteria (pathogenic)
Eliminates bad water smell from tanks or ponds more effectively than activated carbon
Removes chlorine, chloramines, heavy metals and chemical residues contained within water
Increases dissolved oxygen level in water
Doubles efficiency of tank/pond filtration system with increased beneficial bacteria count
Pure Liquid's super fine porous particles act as a mobile surface area for beneficial bacteria, an ability unique from other filter medium and products
Increases beneficial bacteria population thus resulting in more effective reduction of ammonia, nitrite, phosphate, algae and toxic substances
Accelerates bio-activity: ideal for starting up new filter systems
Effectively acts as fertiliser with the rich mineral contents, suitable for all tropical aquaria plants
Contains more than 2000 types of natural elements, minerals and compounds that are almost impossible to cultivate in aquarium and ponds.
Increases fish appetite, enhances growth and intensifies fish colouration
Encourages breeding and increases fertility
Helps boost fish immune system
Creates water conditions that help to prevent bacterial infections
Creates water conditions that accelerate the healing processes of fish treated for fin rot, mouth rot and internal injuries
By creating superior water conditions - helps to protect the natural slime coating of all fish.
AU$39.95 (Was AU$54.95 you save AU$15.00)
AU$11.00
Was AU$13.95
Saving AU$2.95


Ocean Free Pure (Geo) Liquid 100ml
100% Natural Water conditioner*** INTRO PRICE ***
AU$24.15
Was AU$31.95
Saving AU$7.80


Ocean Free Pure (Geo) Liquid 250ml
100% Natural Water conditioner *** INTRO PRICE ***

Ocean Free Pure (Geo) Liquid 2L
100% Natural Water conditioner
Copyright (c) 2022 The Aquarium Shop All rights reserved.