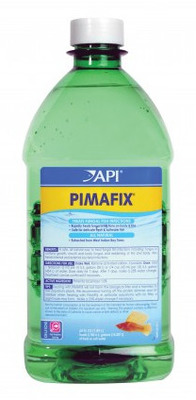 Item # APH60
Description:
Anti-fungal remedy for koi and goldfish
Manufacturer:
Mars Fishcare
Features
A stronger dosage so you use less
Ideal for large aquariums, ponds or for the hobbyist with lots of tanks
Made from Pimenta racemosa (west Indian Bay Tree Extract).
Contains multiple synergistic compounds to treat fish infections.
All-natural formula rapidly treats fungal infections on body and fins of pond fish. Also treats internal and external bacterial infections.
Safe for aquatic plants.
Will not adversely affect the biological filter, alter pH or discolour water.
Pimafix has been formulated to work in combination with Melafix to enhance effectiveness against fish diseases.
Treats up to 71820 Litres.
Directions: Add 5 ml per 190 litres of aquarium water. Dose daily for 7 days. After 7 days, make a 25% water change.
AU$110.20
Earn 1102 points with this purchase
Copyright (c) 2020 The Aquarium Shop All rights reserved.