Fish Food /
Prodac Weekend Fish Food Block 21g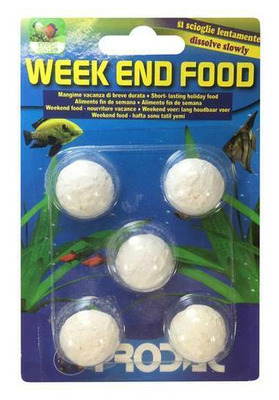 Item # MFB602
Description:
Feeds your fish while your away. 5 Portions slow release
Manufacturer:
Aquasonic
Features
Feeds your fish while your away.
Compound feed to use in aquarium during a short absence.
Dissolves slowly in aquarium water and guarantees a balanced diet for all kinds of fresh water tropical fish.
One tablet is sufficient for 100 litres aquarium containing up to 8 medium sized fish amd last around 4-5 days.
For larger quantity of fish introduce 2-3 tablets.
For smaller aquariums remove unused portion on return.
For best results ensure you have water circulation and aeration in the aquarium.
Composition: Calcium sulphate, crustaceans, fish and fish by products.
Made in Italy.
AU$7.40
Earn 74 points with this purchase
Copyright (c) 2020 The Aquarium Shop All rights reserved.