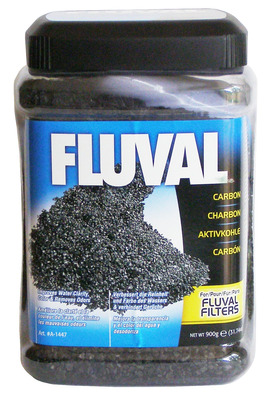 Item # FA60
Description:
(A1447)
Manufacturer:
Hagen
Features
Fluval Carbon provides large amounts of surface area for adsorbtion of impurities. It effectively removes heavy metals,odors,discoloration,organic contaminants,and pollutants,to leave your aquarium water crystal clear and sparkling.
Premium select media for use in Fluval Canister Filters,Ideal for all filters.
Fluval Carbon suitable for Fluval canister filters 103/104/105,203/204/205,303/304,305 and 403/404/405.
Fluval Ultragrade Carbon.
Highly Activated-Absorbs liquefied impurities.
Removes dyes,medications and odors.
Fluval UltraGrade Carbon has been specifically manufactured for aquarium filtration of fresh and marine environments. The internal cell matrix is able to absorb most liquefied impurities and dyes present in aquarium water. Each granule of Fluval UltraGrade Carbon is permeated with numerous pores opening to cell structure that allow rapid diffusion of adsorbed waste material.
Fluval UltraGrade Carbon consist of fine,pure carbon granules;it contains NO phosphates and will not change pH of aquarium water.
Includes 1 nylon filter media bag.
AU$26.20
Earn 262 points with this purchase

Fluval Carbon Filter Media 300g (3 x 100g Bags)
(A-1440)

Fluval Carbon Filter Media 375g
(A-1445)

Fluval Carbon Filter Media 1650g
(A1448)
Copyright (c) 2019 The Aquarium Shop All rights reserved.