Purchase your aquarium supplies and fish tank filters from us today. Call 07 5551 0235.
News...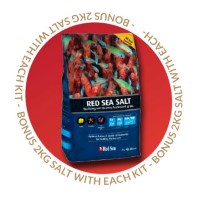 Available only in 52Litres
Stylish honeycomb design conceals back filtration area while looking ultra modern
Powerful 3-stage filtration with oversized mechanical, chemical and biological media
Multi-functional canopy with easy-feed door
Free Bonus 2kg Red Sea salt - LIMITED TIME OFFER THIS MONTH ONLY
LED Lighting system
14000K high-output LED is appropriate for healthy coral growth
Sleek, all aliminium waterproof casing
Convenient touch start day and night illumination
First canister filter in the world to incorporate the Hydro-Pure Technology into it's design
Hydra Filtronís 4-Stage Water Purification, goes beyond the conventional 3 stage filtration
Revolutionary Hydro-Pure technology uses Hydroxyl Radicals
Accelerates startup time from the usual 4-5 weeks to within 1 week
Reduce water odour
Retains a crystal clear tank
Rimless, ultra-clear, beveled edge glass aquarium
Elegant marine-spec cabinet
Professional sump with constant height skimmer chamber and micron filter bags
Silent, regulated down-flow system with emergency overflow
Integrated automatic top-up system with reservoir
Assembly-ready piping Ė no gluing required
Why not add to your order and save on postage.
AU$11.95
Was AU$14.95
Saving AU$3.00


R2 Fish School Kit
Complete training system that includes everything you need to teach your fish really amazing tricks.
AU$29.95
Was AU$49.95
Saving AU$20.00


Fish 101 Filter Media Polyresin Water Softener 350gm
1 x 350gm Net Bagged
AU$7.50
Was AU$9.95
Saving AU$2.45


Aqua Zonic Universal UV Filter 35000
36 watt Aquarium/Pond UV Clarifier *** ON SPECIAL ***
AU$149.95
Was AU$176.30
Saving AU$26.35


Fish Bag 915mm x 610mm 100uM
Suitable for large fish
AU$2.50
Was AU$2.95
Saving AU$0.45


Jebao Fountain Nozzle Kit FT-01
2 piece kit
AU$2.95
Was AU$4.95
Saving AU$2.00


Jebao Fountain Nozzle Kit FT-03
2 piece kit
AU$7.95
Was AU$14.95
Saving AU$7.00


Fluval EDGE 46lt Rear Section Black
Fluval EDGE Replacement Part

Aquasonic Blackwater Conditioner 100mL
Creating natural tropical water conditions
Copyright (c) 2017 The Aquarium Shop All rights reserved.