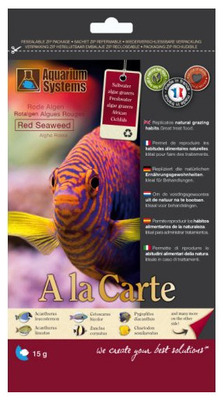 Item # AL-R
Description:
Replicates natural grazing habits. Great food for treats *** ON SPECIAL ***
Manufacturer:
Aquarium Systems
Features
Feed A la Carte daily as part of a balanced diet consisting with other food sources.  
100% natural, source of Vitamins and Minerals
Seaweed strips may be fed pre-soaked in aquarium water or in liquid feed for more enrichment or the strips can simply be fed dry.
Instructions:
Break off a small strip (7cm) of seaweed for an average 150 Litre community fish aquarium.  Secure the strip in the tank with a seaweed clip (sold separately).  If there is uneaten food in tghe aquarium after a few hours, remove it.
AU$12.95 (Was AU$19.95 you save AU$7.00)
Copyright (c) 2023 The Aquarium Shop All rights reserved.