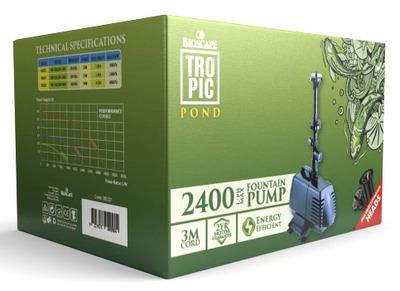 Item # BIS201
Description:
Flow rate: 2400L/hour
Features
A versatile and durable submersible pump designed for aquariums and ponds. With a powerful rare earth rotor and wear-resistant ceramic shaft, this pump offers long-lasting performance. 
It is suitable for both freshwater and saltwater environments and can be used for fountain displays, water garden fountains, and waterfalls. With adjustable flow, multiple attachment options, and a 3m cord, this pump provides flexibility and convenience. Wear-resistant ceramic shaft for long. life lasting. Encapsulated epoxy resin motor ensures safety, reliability and durability. 
Features
3 metre power cable
2 year warranty
Wear-resistant ceramic shaft
Adjustable Flow
With Diversion Valve and 3 Fountain Heads
AU$94.40

Bioscape Pond Fountain Pump 2F
Flow rate: 1000L/hour

Bioscape Pond Fountain Pump 4F
Flow rate: 4800L/hour
Copyright (c) 2023 The Aquarium Shop All rights reserved.