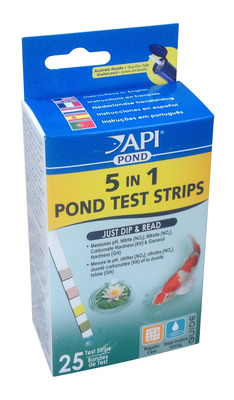 Item # APH188
Description:
The fast way to test pond water quality *** ON SPECIAL ***
Manufacturer:
Mars Fishcare
Features
The new PondCare 5-In-1 Dip Strips provide distinct variations between colors on the color charts for Easy-To-Read results. The desiccant liner on the container keeps the strips dry maintaining product stability and extending the shelf life.
Part of a complete testing lineup from PondCare!
Highly precise color charts - No separate test vial require- dip strip directly into the pond-East-To-Read directions and product recommendations.
Contains 25 Test strips.
Measures pH, Nitrate, Nitrite, KH and GH (Carbonate and General Hardness).

AU$35.00 (Was AU$43.95 you save AU$8.95)
Copyright (c) 2022 The Aquarium Shop All rights reserved.