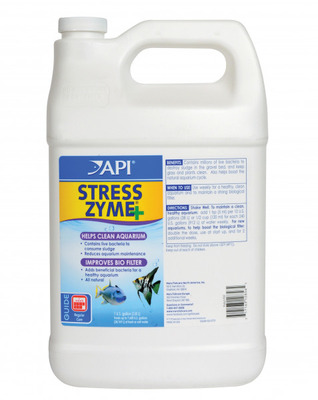 Item # APH193
Description:
*** ON SPECIAL EXPIRY 04/2021 ***
Manufacturer:
Mars Fishcare
Features
Aquarium Pharmaceuticals Stress Zyme
Water Conditioners
Biological Filtration Booster
Contains Dual Action Live Bacteria
Speeds the development of the biological filter
Helps keep aquarium clean and naturally balanced.
Contains millions of live bacteria that speed the development of the biological filter to eliminate ammonia and nitrite
Use whenever setting up, or to maintain fresh and saltwater aquariums
5 ml 40 litres of aquarium water
Continuous use of Stress Zyme will help keep the gravel bed clean and free of organics
Made in the USA
Made by Aquarium Pharmaceuticals
What it does: Accelerates the development of the biological filter and helps clean a dirty aquarium. Rebuilds bacterial flora after medical treatment
How does it work: Contains over 345 million live bacteria per teaspoonful. Breaks down organic compounds that cause dangerous conditions such as ammonia and nitrite poisoning and low oxygen levels. No refrigeration necessary.
Directions: Use when setting up an aquarium and every week ongoing. Continuous use assures an active biological filter, cleaner aquarium, healthier fish and good water quality.
AU$89.95 (Was AU$179.95 you save AU$90.00)
Copyright (c) 2021 The Aquarium Shop All rights reserved.