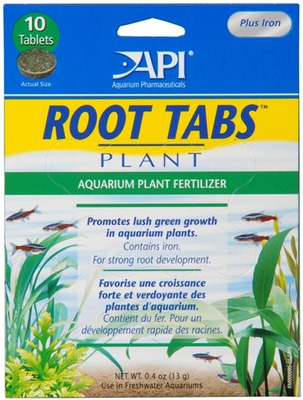 Item # APH170
Description:
Aquarium Plant Fertiliser (#577C)
Manufacturer:
Mars Fishcare
Features
A superior plant fertilizer in tablet form.  Contains key essential nutrients to stimulate lush plant growth.  Gets new plants off to a good start and keeps established plants flourishing
Promotes lush green growth in aquarium plants
Contains iron
For strong root development
Use in freshwater aquariums
Aquarium plants require certain essential nutrients for vibrant growth.  Root Tabs are formulated to supply key nutrients, including iron and potassium 
Directions for use: Add 1 tablet for each 30 square inches (194 sq cm) of gravel surface.  Push midway into gravel bed.  Add new tablets monthly for optimum plant growth
A standard 38 Litre aquarium requires 6 tablets
AU$22.10
Earn 221 points with this purchase
Copyright (c) 2021 The Aquarium Shop All rights reserved.