Fish Food /
Nutrafin Basix Fish Feeder Treasure Chest 3 Day 25g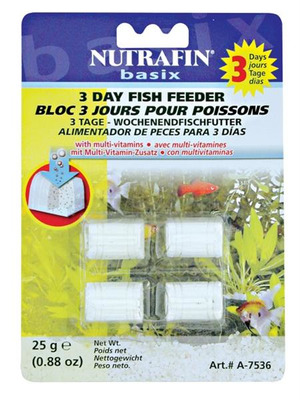 Item # NP50
Description:
4 individual blocks. Holiday fish food (A-7536)
Manufacturer:
Hagen
Features
With multi-vitamins
Has been specifically formulated to provide food and multi-vitamins for your aquarium fish for up to 3 days.
The slow release feeder provides a varied diet of pellets and multi-vitamins for community aquarium up to 37.8 litres.
For larger aquariums simply add one extra block per 37.8 litres.
For best results temperature should be kept between 24-25 degrees celcius and pH should be between 6.8-7.2 (a high pH will cause food to release slower).
Do not use in bowls or aquariums without adequate filtration or aeration.
It is recommended to do a 20% water change after using the 3 day fish feeder.
Made in Taiwan.
AU$4.00
Earn 40 points with this purchase
Copyright (c) 2020 The Aquarium Shop All rights reserved.