Fish Food /
Zoo Med Betta Banquet Time Release Feeding Block (BB-7) 7 Day 8.5g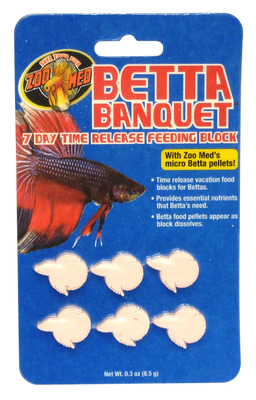 Item # ZM367
Description:
Betta Holiday Fish Food
Manufacturer:
Zoo Med
Features
Provides essential nutrients that Betta's need.
Betta food pellets appear as block dissolves.
Time release vacation food blocks for Bettas.
Feeding instructions: Zoo Med Betta Banquet Food Blocks are made with whole Micro Betta Pellets and Krill to provide essential nutrients that Bettas need.  As the block dissolves, Betta Food Pellets are exposed allowing your Betta to feed throughout the day.  Eash block will feed one Betta for up to 7 days depending on the pH and hardness of the water.  Be sure to perform routine water changes weekly.
Made in USA
AU$5.20
Earn 52 points with this purchase
Copyright (c) 2020 The Aquarium Shop All rights reserved.