Cat Supplies /
Mr. Fothergill's Cat Grass Sprouting Seed Raiser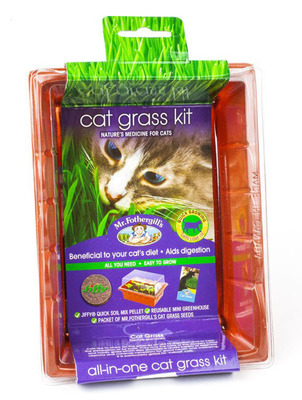 Item # CATG01
Description:
Seed Growing Kit
Manufacturer:
Mr. Fothergill's Seeds & Bulbs
Features
Cats like to chew on grass as an aid to digestion and to help the elimination of furballs. They love the taste of this densely tufted and hardy grass that provides a ready supply of essential vitamins and minerals necessary for good health and well-being. It is particularly good for indoor cats.
Nature's medicine for cats - aids digestion and beneficial to your cat's diet
Kit contains seed for many plants, a pre-measured amount of seed-raising mix, a reusable growing tray and a clear lid for propagation.
Quick growing and can plant all year round
Easy to grow - just fill, sow, water and cover
Germination period is 3 - 5 days
Harvest is 5 - 7cm high
Made in Australia
Suitable for all states including WA
6 packs in one box
AU$9.95 (Was AU$13.95 you save AU$4.00)
Copyright (c) 2022 The Aquarium Shop All rights reserved.