Fish Food /
Hai Feng Fast Colour Tropical Medium Pellet 430g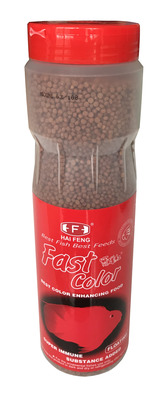 Item # HF36
Description:
3mm colour enhancing medium floating pellet (H670A).
Manufacturer:
Hai Feng
Features
Developed to enhance the colour quickly.  It can enhance the colour of most fishes to bright and beautiful colours.
Also good to gain the colour back when the fish colour is fading to changes in the water.
Easily digestible formula can improve your fish digestive system and help your fish say healthy. 
Special immune substance and Vitamin A, C, E, enzymes and other important elements are added to ensure balanced growth and disease resistance.
High quality control helps to keep a cleaner and stable water environment for your fish.
ISO9001 certified manufacturer.
Ingredients: White Fish meal, Soybean meal, Wheat Flour, Dried yeast, Krill, Barley, Fish Protein, Shrimp paste, Natural Immunoglobulin, Protease, Minerals, Vitamins, Natural Colour.
AU$38.20
Earn 382 points with this purchase
Copyright (c) 2020 The Aquarium Shop All rights reserved.