Fish Food /
Vitalis Aquatic Nutrition Marine Grazer Mini 290g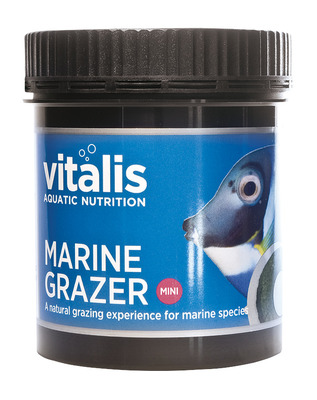 Item # 110527
Description:
Mini Natural Ingredients marine range *** ON SPECIAL EXP 04/20 ***
Manufacturer:
Vitalis Aquatic Nutrition
Features
Health - Colour - Vitality
Encompassing all the nutritional requirements of marine grazing fish in a highly stable feeding ring which reduces waste
The grazing diet encourages your fish to exhibit natural feeding behavior and allows you to witness your fish feeding as they would in the wild
Generates natural feeding behaviour
Provides a feeding station for all grazing species
Less waste - improved water quality
Natural, sustainably sourced ingredients
A complete pet food for Butterfly fish, Wrasse, Parrot fish, Rabbit fish, Surgeon fish, Tangs, Unicorn fish
Composition: Fish and fish derivatives, algae, deratives of vegetable origin, oils and fats, molluscs and crustaceans, vitamins, minerals
Analysis: Protein 31.9%, Moisture 21.3% Inorganic Matter 18.6% Fat Contents 12%, Crude Fibre 4.5%.
Nutritional Additives: Vitamin A 15,000iu/kg, Vitamin D3 2,000iu/kg, Vitamin E 200mg/kg, Zinc Sulphate Monohydrate 208mg/kg, Manganous Sulphate Monohydrate 131mg/kg, Cupric Sulphate Pentahydrate 88.5mg/kg, Ferrous Sulphate Monohydrate 28.7mg/kg, Calcium Iodate Anhydrous 12.4mg/kg.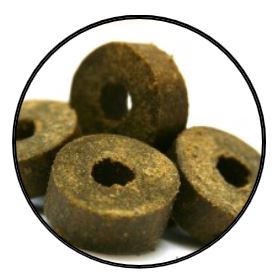 AU$48.00 (Was AU$59.46 you save AU$11.46)
Earn 480 points with this purchase
AU$30.95
Was AU$34.13
Saving AU$3.18


Vitalis Aquatic Nutrition Marine Grazer Mini 110g
Mini Natural Ingredients marine range
Copyright (c) 2020 The Aquarium Shop All rights reserved.