Fish Food /
Vitalis Aquatic Nutrition Platinum Marine Flakes (New Era Aegis Flakes) 30g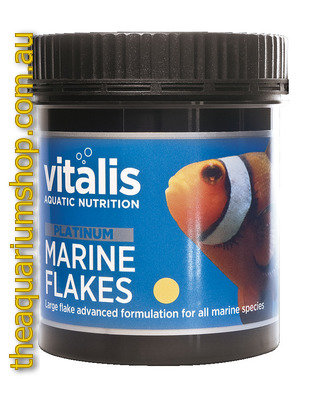 Item # 103001
Description:
Flakes Natural Ingredients marine range *** ON SPECIAL BEST BEFORE 02/20 ***
Manufacturer:
Vitalis
Features
Our platinum flakes deliver all you would expect from a high quality balanced feed. In addition we have tailored this formulation to include key ingredients to support the immune system and maximise health and condition. Designed to be used in rotation with the Vitalis Marine Range over a 6 week period.
Unique large flake formulation
Less waste – improved water quality
Natural, sustainably sourced ingredients
Supports the immune system
Recommended for: Marine Angelfish, Damselfish, Clownfish, Lionfish, Butterfly fish, Anthias, Gramma, Garden eels, Wrasse, Hawkfish
Composition: Fish and fish derivatives, derivatives of vegetable origin, molluscs and crustaceans, oils and fats, vitamins, minerals.
Analytical Constituents: Protein 47.6%, Fat content 10%, Inorganic matter 10%, Crude Fibre 1.4%.
Technological additives: Antioxidants, preservatives.
Nutritional additives: Vitamin A 15,000IU/kg, Vitamin D3 2,000IU/kg, Vitamin E 200mg/kg, Zinc sulphate monohydrate 208mg/kg, Manganous sulphate monohydrate 131mg/kg, Cupric sulphate pentahydrate 88.5mg/kg, Ferrous sulphate monohydrate 28.7mg/kg, Calcium iodate anhydrous 12.4mg/kg.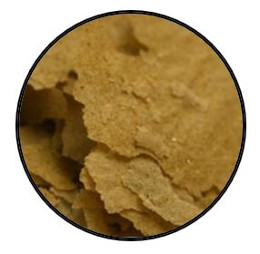 AU$9.95 (Was AU$27.56 you save AU$17.61)
Earn 100 points with this purchase
AU$15.55
Was AU$17.85
Saving AU$2.30

Out of stock

Vitalis Aquatic Nutrition Platinum Marine Flakes (New Era Aegis Flakes) 15g
Flakes Natural Ingredients marine range
Copyright (c) 2020 The Aquarium Shop All rights reserved.