Fish Food /
Vitalis Aquatic Nutrition Catfish Pellets 300g XS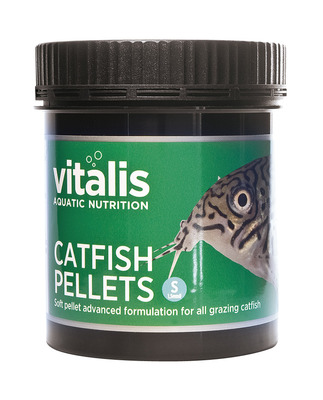 Item # 216993
Description:
Soft sinking 1mm small pellet food tropical range *** BEST BEFORE 03/2020 ***
Manufacturer:
Vitalis
Features
Unique soft sinking pellet formulation - the unique softness obtained through our low temperature extrusion process makes for much easier and speedier digestion. The pellets are compressed easily as they enter the buccal cavity and break up to allow very fast absorption through the gut wall.
Vitalis Aquatic Nutrition Catfish Pellets are designed for all bottom feeding species of catfish such as Synodontis and Corydoras. The soft pellets are ideal for the delicate mouthparts and barbels of catfish and are extremely attractive to species which rely on olfactory senses in locating food. The algae rich formulation means that this is an extremely versatile diet to encompass one of the largest families of fish.
Natural Ingredients
Sustainably sourced ingredients
A complete pet food for fish, suitable for Corydoras, Synodontis, Bagrid, Dora, Botia, Dianema, Pimelodus, Brochis
Made in UK
Composition:Fish and Fish Derivatives, Derivatives of Vegetable Origin, Algae, Oils and Fats, Minerals, Molluscs and Crustaceans.
Analysis: Protein 40.3%, Moisture 20.8%, Inorganic Matter 19.3%, Fat Content 10%, Fibre 2%
Nutritional Additives:Vitamin A 10,000iu/kg, Vitamin D3 2,000iu/kg, Vitamin E 200iu/kg, Zinc Sulphate Monohydrate 417mg/kg, Manganous Oxide 313mg/kg, Ferrous Sulphate Monohydrate 297mg/kg, Calcium Iodate Anhydrous 7.9mg/kg, Sodium Molybdate 6.4mg/kg, Cupric Sulphate Pentahydrate 2.4mg/kg, Sodium Selenite 0.2mg/kg
AU$25.95 (Was AU$44.25 you save AU$18.30)
AU$14.95
Was AU$25.27
Saving AU$10.32


Vitalis Aquatic Nutrition Catfish Pellets 120g
1mm Soft sinking extra small pellet food tropical range *** ON SPECIAL BEST BEFORE 05/20 ***
Copyright (c) 2021 The Aquarium Shop All rights reserved.