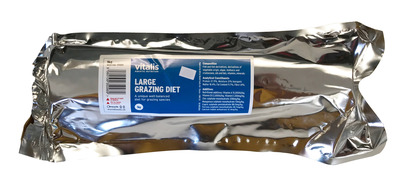 Item # 115001
Description:
A unique well-balanced diet for grazing species. Natural Ingredients 6.6cm x 24cm
Manufacturer:
New Era
Features
Health - Colour - Vitality
Vitalis Grazing Log diet is designed for omnivorous grazing species.
Herbivorous fish that graze throughout the day in their natural environment tend to enter an unnatural dietary regime when kept in an aquarium.
Features & Benefits
Generates natural feeding behaviour
Natural ingredients
Less waste - improved water quality
Sustainably sourced ingredients
Provides a feeding station for all grazing species
Suitable for species including:
Tangs, Surgeonfish, Rabbitfish, Butterflyfish, All Marine Angelfish, Blennies & multiple Herbivorous freshwater species.
Composition
Fish and Fish Derivatives, Derivatives of vegetable origin, Algae, Molluscs and Crustaceans, Oils and fats, Vitamins, Minerals.
Analytical Constituents
Protein 37.9%, Moisture 21% Inorganic Matter 18.4% Fat Contents 9.7%, Crude Fibre 1.8%.
Additives
Nutritional Additives: Vitamin A 15,000iu/kg,Vitamin D3 2,000iu/kg, Vitamin E 200mg/kg,Zinc Sulphate Monohydrate 208mg/kg,Manganous sulphate monohydrate 131mg/kg, Cupric Sulphate Pentahydrate 88.5mg/kg, Ferrous Sulphate Monohydrate 28.7mg/kg, Calcium Iodate Anhydrous 12.4mg/kg.
For more info, please visit www.new-era-aquaculture.com
AU$149.95
Copyright (c) 2020 The Aquarium Shop All rights reserved.