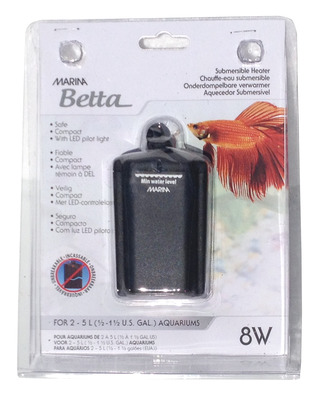 Item # MRN25
Description:
Suitable for 2-5 litre tanks (11182)
Manufacturer:
Hagen
Features
Marina Betta Heater is an automatic, submersible heater that creates ideal water conditions for bettas to thrive in. The exterior is made of durable polymer, which is more resilient than traditional glass sleeve heaters. The heater is designed to reach and maintain a set temperature, no manual adjustments required. It has a red indicator light that illuminates when the heater is working. It comes with a suction cup, so you can easily install it against the aquarium window. For aquariums up to 5 litres (1.5 US Gal).
Note: Heater will increase water temperature by 3-7 degrees depending on aquarium size and room temperature.
Key Features
Automatic, submersible aquarium heater
Creates ideal conditions for bettas to thrive in
Made of durable polymer, tougher than glass
Automatically reaches set temperature
Easy to install using suction cups
For aquariums up to 5 litres (1.5 US Gal)
8 Watts
Size: 4.5x2x7cm high
AU$23.50
Earn 235 points with this purchase
Copyright (c) 2020 The Aquarium Shop All rights reserved.