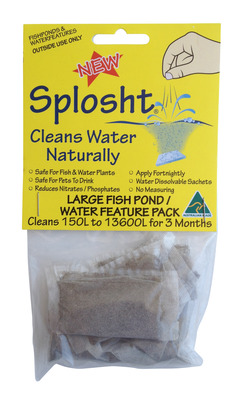 Item # 5348016
Description:
Cleans water naturally - treats 150-13600 Litres
Features
Note: Please do not use Chlorine or UV filters as they both will inhibit Splosht from growing. Use rainwater or aged water (water from the hose poured into a bucket and left outside for 24 hrs). Some more handy tips can been seen here.
Please note: In very cold water (below 10 degrees) Splosht will take much longer to work so it's recommended to wait for warmer weather.
Splosht is safe for your fish. The Splosht Large Fishpond / Water Feature Pack has been specially formulated for your Fish Pond. It will treat from the smallest Large Fishpond / Water Feature of 150 litres to the largest up to 13600 litres. It is an ideal natural way of dramatically reducing algae growth by keeping your aquarium cleaner for longer.
Simply drop a sachet in every 2 weeks. It's easy!
Splosht is not a chemical. It is a natural organic blend of good bacterias that are safe for your fish, plants and the environment. When you use chemicals you must be carefull and measure as overdosing may accidentally kill your fish as well as the algae as chemicals are man-made poisons.
Splosht is unique and amazing. Splosht when put in initially will take 4 weeks to grow. Then WOW!
When you use Splosht there is NO MEASURING. Just drop a water dissolvable sachet in and watch it disappear in minutes.
1. Algae dies off naturally as Splosht eats all its food source.
2. The water is cleaned naturally by Splosht binding minute rubbish and sediment together making it drop to the floor.
3. Splosht eats away at the rubbish on the floor of your tank making it literally disappear.
With Splosht your water changes will be extended making it easier to maintain your aquarium. Please clean your filter as normal.
Splosht products sold in Australia benefit Phoenix Society, Scosa and Guide Dogs For The Blind who receive manufacturing work and part proceeds from all Splosht sales. 85% of all Splosht products are sourced, manufactured and packaged in Australia.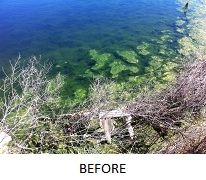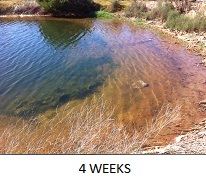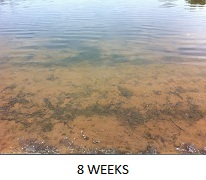 AU$22.95

Splosht Aquarium Pack 3 Month Treatment
Cleans water naturally - treats 20-500 Litres

Splosht Small Fish Pond / Water Feature Pack 3 Month Treatment
Cleans water naturally - treats 40-150 Litres
Copyright (c) 2022 The Aquarium Shop All rights reserved.