Fish Food /
Hikari Cichlid Gold - Fish Food Baby Pellet 250g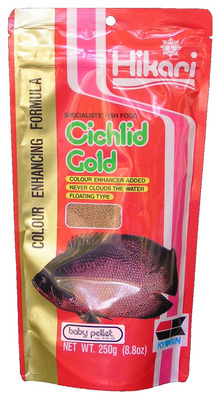 Item # KH04128
Description:
1.7-2mm floating pellet
Manufacturer:
Hikari
Features
Specialists fish food.
Hikari Cichlid Gold is a complete and balanced color enhancing daily diet.
Contains Astaxanthin to promote rich coloration.
Protein rich formula Carnivorous fish love.
Nutrient rich yet won't cloud your water.
Great for all types of cichlids and larger tropical fish.
An excellent daily diet for cichlids and larger tropical fish helps restore vivd coloration to washed out specimens.
Includes the highest grade of carotenoid available today,offering superior color enhancement while helping your pet retain their beauty all year round.
The higher natural protein levels and balanced nutrition offer excellent growth rates,improved digestion and superior form.
Contains stabilized vitamin C which promotes resistance to stress and immunity to infectious disease thereby allowing your pet their best chance at maintaining good health.
Trust the originator of premium aquatic diets and our more than 110 years of experience when you are looking for the best.
High in special colour enhancers, Cichlid Gold is specially designed for fish of the Cichlid family.  These effective additives are supplied in just the right amounts to bring out the brilliant, natural colours in your fish.
A floating pellet type food, this highly economical food can be used for almost all Cichlids and many other types of tropical fish, as well as Goldfish and Koi.
Never clouds the water.
AU$18.50 (Was AU$20.95 you save AU$2.45)
Earn 185 points with this purchase
Copyright (c) 2020 The Aquarium Shop All rights reserved.