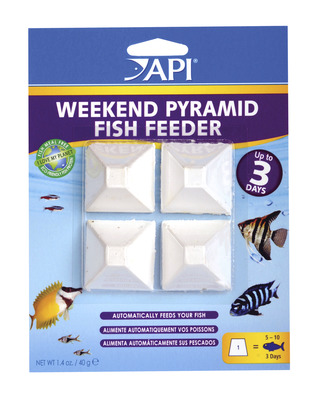 Item # APH136
Description:
Holiday fish food (UK-78)
Manufacturer:
Mars Fishcare
Features
3-Day pyramid fish feeder.
Automatically feeds your fish for a whole weekend.
Includes 4 pyramids.
For fresh and saltwater fish.
Place the 3-day feeder in your aquarium.
It will immediately start to dissolve,giving off a stream of fine bubbles.
Within a few hours,the first nourishing food pellets will begin to swell and push out of the pyramid.
One pyramid will feed 15-20 fish in a 40 litre tank for 3-4 days.
DO NOT USE in Fish bowls or aquariums without adequate filtration and aeration,because water circulation is needed for the pyramid to dissolve properly.
Net weight: 40 grams.
THE 3-DAY PYRAMID FISH FEEDER™ supplies superior nutrition for freshwater aquarium fish when the hobbyist isn't available to manually feed fish for approximately 3 days. After being placed in the aquarium, THE 3-DAY PYRAMID FISH FEEDER™ will give off a fine stream of bubbles; fish begin to sense the presence of food within the pyramid, and are attracted to it. Within a few hours, fish are feeding on the nourishing food pellets from the surface of the pyramid. These pellets contain a formulation of energy-rich foods, along with essential vitamins and minerals, which are continually provided during the feeding cycle of the pyramid. Fish feed at will; the more they eat, the more food pellets are exposed. Directions For Use: Simply place THE 3-DAY PYRAMID FISH FEEDER™ in the aquarium to begin the feeding cycle. One pyramid will feed the fish in an appropriately stocked 10 U.S. gallon (38 L) aquarium for 2 to 4 days.
Made in the USA.
AU$8.95
Earn 89 points with this purchase
Copyright (c) 2020 The Aquarium Shop All rights reserved.