Fish Food /
Hikari Sinking Goldfish Excel Fish Food Baby Pellet 110g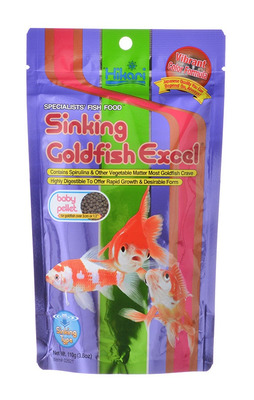 Item # KH02621
Description:
1.5mm sinking pellet vibrant colour formula
Manufacturer:
Hikari
Features
A uniquely balanced daily diet, developed for most standard goldfish.
Contains high levels of Pure-Cultured Spirulina and other vegetable matter most goldfish crave
Precise amounts of carefully selected carotenoids offer colouration you have to see to believe!
Highly digestible to offer rapid growth and desirable form
An extremely stable pellet size that's suitable for most goldfish above 3 cm
Readily digested, premium-select ingredients provide immune system support and great taste too!
Feeding
Feed up to 4 times daily, but do not exceed the amount your fish will consume within a few minutes. More frequent, smaller feedings are best. Always remove any uneaten food after the feeding period to avoid over-feeding and the water quality issues that can result.
AU$12.40 (Was AU$14.60 you save AU$2.20)
(Bulky Item)

Hikari Cichlid Excel Fish Food Mini Pellet 250g
3mm floating pellet

Hikari Cichlid Excel Fish Food Mini Pellet 342g
3mm sinking Pellet
Copyright (c) 2023 The Aquarium Shop All rights reserved.