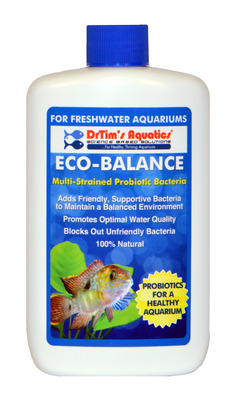 Item # 81254001063
Description:
Multi-Strained Probiotic Bacteria
Manufacturer:
Dr Tim's
Features
The normal processes in an aquarium cause the bio system to become unbalanced allowing unfriendly bacteria and algae to take hold dominate and then negatively impact on your aquarium's water quality.
Eco-Balance uses friendly, 100% natural, probiotic bacteria to help reduce the number of bad bacteria in your aquarium. Use Eco-Balance to restore and maintain a clean, balanced and healthy aquarium.  
Multi-Strained probiotic bacteria
Adds friendly, supportive bacteria to maintain a balanced environment
Promotes optimal water quality
Block out unfriendly bacteria
100% natural
Treats 1817 Litres
Use once per week as a natural way to keep your aquarium healthy, clean and in balance.
Good for 6 months at room temperature, or 1 year at 10C.  Keep refrigerated for longest shelf life.
Directions for Use:
SHAKE WELL BEFORE USING
DO NOT OVERDOSE
Maximum dose 10 ml per 10 gallons (40 Litres) of aquarium water.
Caution: When initially using Eco-Balance we strongly recommend adding only a HALF dose. 
AU$52.50
Earn 250 points with this purchase
Copyright (c) 2019 The Aquarium Shop All rights reserved.