Fish Food /
Vitalis Aquatic Nutrition Soft Coral Food 40g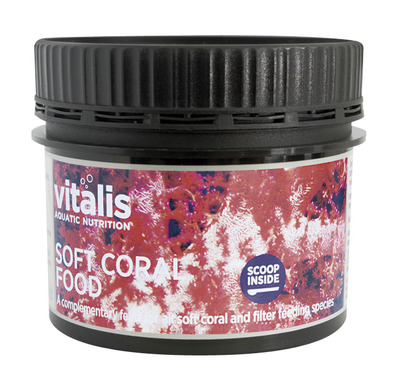 Item # 100600
Description:
A complementary feed for all soft coral and filter feeding species
Features
This micronized flake has particles ranging from approximately 100-400µm.
It is designed to mimic the suspended particulate matter found naturally in seawater, which soft corals trap in their tentacles.
The advanced blend of amino acids in the formulation encourages polyp extension, enabling you to witness your corals feeding as they would in the reef environment.
Specifications
Features and Benefits
- Unique micronized flake formulation
- Natural ingredients
- Less waste - improved water quality
- Sustainably sourced ingredients
Composition
Fish and fish derivatives, derivatives of vegetable origin, spirulina, oils and fats, molluscs and crustaceans, vitamins, minerals.
Analytical Constituents - Protein 54%, Inorganic Matter 11.1%, Fat Content 10.3%. 
Technological additives: Antioxidants, preservatives.
Nutritional additives: Vitamin A 15,000IU/kg, Vitamin D3 2,000IU/kg, Vitamin E 200mg/kg, Zinc sulphate monohydrate 208mg/kg, Manganous sulphate monohydrate 131mg/kg, Ferrous sulphate monohydrate 28.7mg/kg, Calcium iodate anhydrous 12.4mg/kg. Amino acids: L-threonine 48mg/kg, Taurine 367mg/kg.
AU$28.15 (Was AU$31.55 you save AU$3.40)
Earn 282 points with this purchase
AU$4.95
Was AU$31.55
Saving AU$26.60

Out of stock

Vitalis Aquatic Nutrition SPS Coral Food 40g
A complementary feed for small polyp stony corals *** ON SPECIAL BEST BEFORE 02/20 ***
AU$29.40
Was AU$31.55
Saving AU$2.15


Vitalis Aquatic Nutrition LPS Coral Food 1.5mm pellet 50g
A complementary feed for largel polyp stony corals

Vitalis Aquatic Nutrition Anemone 4mm Pellet 50g
A complementary feed for all anemone and large LPS coral species
Copyright (c) 2020 The Aquarium Shop All rights reserved.