Fish Food /
Vitalis Aquatic Nutrition Rift Lake Cichlid Green Flakes 30g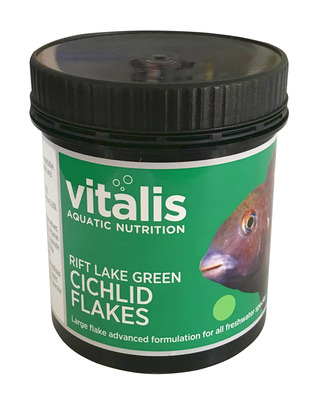 Item # 220000
Description:
Large flake formulation for all freshwater species. *** ON SPECIAL EXP 10/19 ***
Manufacturer:
New Era
Features
Health - Colour - Vitality
Green is designed for both carnivorous and herbivore cichlids from the African Rift Lakes.
Containing the highest quality ingredients, this low protein herbivore diet caters for African Rift Lake Cichlids such as Mbuna, Labidochromis and Pseudotropheus. 
Together with a unique blend of algae, tailored mineral profile and rich source of vitamins, these pellets provide a complete and well balanced diet. 
Less waste - improved water quality
Natural Ingredients
Suitable for all tropical marine species including: Pseudotrophus, Melanochromis, Labeotrophus, Labidochromis, Metriaclima
Sustainably sourced ingredients
Made in UK
Analytical Constituents Protein 37%, Inorganic Matter 20%, Fat Content 9.4%, Fibre 2.6%.
Composition: Fish and Fish Derivatives, Algae, Derivatives of Vegetable Origin, Molluscs and Crustaceans, Oils and Fats, Minerals.  
Nutritional Additives: Nutritional Additives: Vitamin A 15,000iu/kg, Vitamin D3 2,000iu/kg, Vitamin E 200mg/kg, Zinc Sulphate Monohydrate 417mg/kg, Manganous Sulphate Monohydrate 313mg/kg, Ferrous Sulphate Monohydrate 297mg/kg, Calcium Iodate Anhydrous 7.9mg/kg, Sodium Molybdate 6.3mg/kg, Cupric Sulphate Pentahydrate 2.3mg/kg, Sodium Selenite 0.2mg/kg
For more info, please visit www.vitalisaquatic.uk
AU$1.95
AU$24.95
Was AU$25.27
Saving AU$0.32


Vitalis Aquatic Nutrition Rift Lake Cichlid Green Pellets 120g
Small soft 1.5mm sinking pellet tropical range
AU$42.95
Was AU$44.26
Saving AU$1.31


Vitalis Rift Lake Cichlid Green Pellets 300g
Small soft 1.5mm sinking pellet tropical range
AU$154.95
Was AU$164.58
Saving AU$9.63


Vitalis Aquatic Nutrition Rift Lake Green Cichlid Pellets 1.8kg
Small soft 1.5mm sinking pellet tropical range
Copyright (c) 2020 The Aquarium Shop All rights reserved.