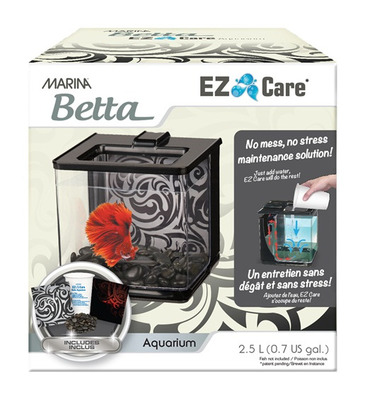 Item # PA95
Description:
(13358)
Manufacturer:
Marina
Features
The Marina Betta EZ Care Aquarium provides a no mess, no stress maintenance solution. Now there's no need to get your hands wet; disturb your Betta or disrupt your aquarium décor in order to perform routine water changes. Simply add clean water and the EZ care self-cleaning feature does the rest.
By adding clean water, debris gets flushed to the bottom of the tank and then out to the reservoir located on the back. When the reservoir is filled; just remove, empty and replace -- no mess, no stress.
The aquarium's small size takes up very little space and its chic design allows it to blend in nicely with a variety of household or office settings such as counters, desks, bookshelves or coffee tables.
2.5L (0.7 US gal) clear plastic cube aquarium with frame and EZ care feature
Decorative double-sided background
Decorative beads
Water change cup
Colour: Black
Dimensions: 15.8 cm L x 15.8 cm H x 15.8 cm D (6 ¼ in x 6 ¼ in x 6 ¼ D)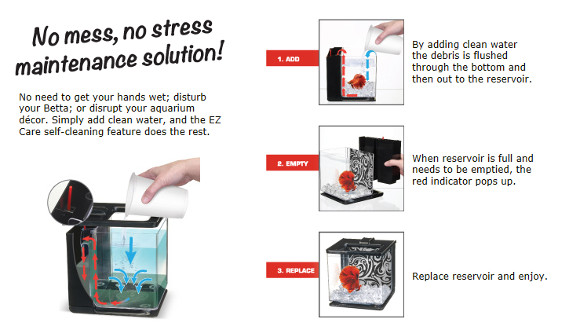 AU$29.35

Marina Betta EZ Care Aquarium Kit 2.5 Litre Blue
(13359)

Marina Betta EZ Care Aquarium Kit 2.5 Litre White
(13357)
Copyright (c) 2021 The Aquarium Shop All rights reserved.