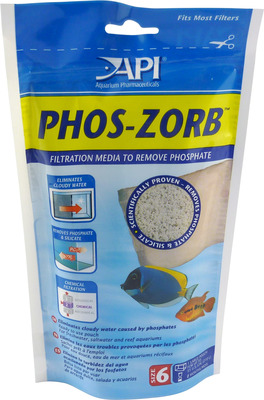 Item # BE3
Description:
Treats up to 210 litres of aquarium water
Manufacturer:
Mars Fishcare
Features
Phos-Zorb.
Filter media to removes Phosphate and silicate from Fresh , Salt water and Reef aquariums.
Treats up to 208 litres of aquarium water.
A specialist absorption filter medium in a pouch.
Removes Phosphate and silicate, natural occuring nutrients.
Promotes the growth of reef building corals and prevents calcium precipitation caused by excess phosphate.
Safe for all fish, invertebrates and planted aquariums.
Use one pouch to treat up to 208 litres of aquarium water.
Do NOT open filter pouch.
Eliminates cloudy water caused by phosphates
Rinse pouch of Phos-Zorb in tap water to remove dust.
Place pouch in water flow in the aquarium filter.
Replace pouch every 6-8 weeks.
Specialized filtration medium in a convenient pouch that removes phosphate and silicate from fresh and saltwater and Reef aquariums for clearer water Treats up to 208 litres.
AU$25.05
Earn 250 points with this purchase
Copyright (c) 2021 The Aquarium Shop All rights reserved.