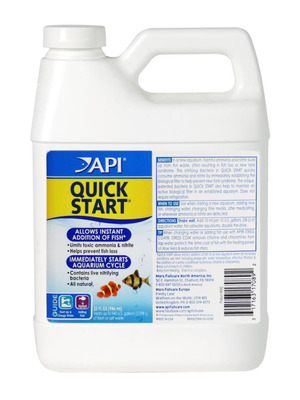 Item # APH129a
Description:
Allows instant addition of fish. *** ON SPECIAL EXPIRY 02/2021 ***
Manufacturer:
Hagen
Features
The unique, patented nitrifying bacteria in QUICK START are scientifically proven to quickly consume ammonia and nitrite to help prevent "new tank" syndrome.
Allows immediate addition of fish to a new freshwater or saltwater aquarium.  This is when all necessary conditions are met, including proper pH and water temperature, effective filtration and the addtion of a water conditioner such as API Tap Water conditioner.
Limits toxic ammonia and nitrite
Helps prevent fish loss
Immediately starts aquarium cycle
Contains live, nitrifying bacteria
All natural
Can be used in Ponds as well
AU$19.95 (Was AU$84.95 you save AU$65.00)
Copyright (c) 2021 The Aquarium Shop All rights reserved.